Skin Rejuvenation, Skin Toning and Lifting, complete with our Anti-aging Conductive Booster Gel for silky soft and glowing skin.
Bundle includes:
1 Mojia™ Audora Red LED Light Therapy Mask
1 Mojia™ Charis Microcurrent device
1 Mojia™ ELECTRA Conductive Booster Gel
AUDORA LED LIGHT THERAPY FACE MASK
LED therapy is clinically proven to significantly improve skin complexion, reduce fine lines and wrinkles.
Clinical studies have shown red light therapy helps boost natural collagen production therefore increasing skin elasticity .
The Mojia™ AUDORA uses the approved wavelengths required to penetrate the different layers of the skin achieving the greatest effect for cell regeneration.
NIR – RED – BLUE – YELLOW
A rechargeable controller makes this mask wireless and fully portable allowing you to do your treatments anywhere.
Suitable for all skin types.
Mojia™ CHARIS microcurrent device is designed with advanced technology to deliver professional quality treatments.
Mojia™ has designed a handheld microcurrent device that is powerful and easy to use with its sleek body and small 360 degree rotating spheres.
Mojia™ CHARIS is the only microcurrent device on the market with Mojia™ MC warm heat energy. This superior technology combines warm heat energy (WHE) that works together with low level electrical impulses generated from the microcurrent. The warm heat energy flows to the deeper layers of the facial muscles helping them to relax thus making them more receptive, and increases the efficacy of not only the microcrurent treatment, it increases deeper absorption of water based skincare products.
The Mojia™ CHARIS microcurrent has 3 levels of intensity: 200 microamps, 400 microamps, and 600 microamps.
This is one aspect separating Mojia™ CHARIS apart from other mirocurrent handheld devices available on the market. Mojia™ CHARIS has the power to perform at a professional level, providing fast, easy, and effective treatments in the comfort of your own home.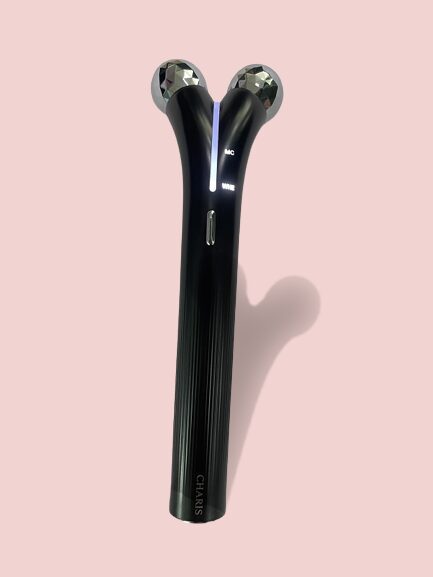 ELECTRA CONDUCTIVE BOOSTER GEL
Mojia™ Electra Conductive Booster Gel is an unique and powerful water based gel formula packed with top quality, active ingredients, cell communicating peptides, loaded with antioxidants, brightening and anti-aging properties to deliver intensive nourishing and hydrating benefits.
Enriched with a combination of hydrating, nourishing and active ingredients to ensure optimal results, this lightweight gel is a perfect support with your favourite Mojia™ device, or as part of your daily skincare routine.
When used with your device, the powerful formulation of Mojia™ Electra  Conductive Booster Gel ensures maximum conductivity promoting deeper product absorption and hydration leaving your skin feeling rejuvenated, plump, and glowing.