Beautiva™ Conductive Antioxidant Enzyme Gel
NEW Improved Formula
Indulge in the opulence of this exceptional leave-on gel that is exclusively designed for microcurrent, RF, and HIFU therapies. The remarkable formula boasts an abundance of superoxide dismutase – a potent antioxidant enzyme renowned for safeguarding skin against free radicals. Moreover, enriched with silk fibroin to enhance your skin's texture and elasticity like never before!
Beautiva™ Conductive Antioxidant Enzyme gel is a game-changer in the world of skincare. 
This luxurious leave-on gel is specially formulated for microcurrent, RF, and HIFU treatments. It contains superoxide dismutase, a powerful antioxidant enzyme that helps protect the skin from free radicals. Additionally, the gel contains silk fibroin, which helps to improve the skin's texture and elasticity. The Bio Antioxidant Enzyme invention is exclusive to Beautiva™ and is designed to provide the ultimate in skincare results. This gel is ideal for those who want to take their treatments to the next level. It is easy to use and can be applied directly to the skin before treatment. The gel is lightweight and absorbs completely, leaving the skin feeling soft and smooth. If you are looking for a powerful conductive gel super packed with quality ingredients that can help you achieve the best possible results, then Beautiva™ Conductive Antioxidant Enzyme gel is the perfect choice.
Beautiva™  Conductive Antioxidant Enzyme gel is formulated to absorb deep into the skin, providing the best anti-aging benefits, and leaving your skin nourished and hydrated.
Superoxide Dismutase: main active ingredient
Superoxide dismutase, or SOD, is a powerful antioxidant enzyme that plays a crucial role in protecting your skin against free radical damage. Free radicals are unstable molecules that can cause damage to your skin cells, leading to visible signs of aging such as fine lines, wrinkles, and age spots. SOD works by neutralizing these free radicals, preventing them from causing damage to your skin. As the first line of defense against free radical damage, SOD is an essential component of any anti-aging skincare routine. By using products that contain SOD, you can help protect your skin from the effects of environmental stressors and maintain a youthful, radiant complexion.
Silk Fibroin: main active ingredient
Silk Fibroin is a powerful ingredient that has been found to have numerous benefits for the skin. One of the most significant benefits is that it stimulates the skin to synthesise collagen protein, which is essential for maintaining the skin's elasticity and bounce. Collagen is a crucial protein that helps to keep the skin firm and supple, but as we age, our bodies produce less of it, leading to sagging and wrinkles. By using products containing Silk Fibroin, you can help to boost your skin's collagen production, resulting in firmer, smoother, and more youthful-looking skin. Additionally, Silk Fibroin accelerates the rate of cellular regeneration of the skin, meaning that it helps to speed up the renewal process and promote healing and scarring. This makes it an excellent ingredient for those with acne-prone or damaged skin, as it can help to promote healing and reduce the appearance of scars.
Chamomile Extract:
Chamomile contains powerful anti-oxidants including polyphenols and phytochemicals. When applied to the skin, it may help reduce signs of aging by protecting the skin from free radical damage. It accelerates cell and tissue renewal, reducing the appearance of fine lines and giving skin a youthful glow.
Full List Ingredients:
Water, Antioxidant enzyme (SOD), Ethylparaben, Chamomile Extract, Hyaluronic Acid, Triethanolamine, Propylene Glycol, Phenoxyethanol, Glycerin, Silk Fibroin, Carbomer.
Beautiva™ Conductive Antioxidant Enzyme gel is filled with potent active ingredients that help stimulate the production of collagen, reduce the appearance of hyperpigmentation, and fight off free radical damage. 
This super nourishing and hydrating gel does not need to be rinsed off after treatment and can also be applied on its own as part of your daily skincare routine.


Take a deep dive with our e-book and explore in more detail the benefits of our hero ingredients.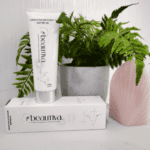 Beautiva™ Conductive Antioxidant Enzyme Gel
Your review
* Review is required
Email
* Email is required
Add photos or video to your review