BOOST .3 and PRO LiFT Bundle
Introducing Boost .3 and Pro Lift, the dynamic duo in the world of microcurrent devices.
These best-selling devices have been meticulously crafted with the perfect combination of features to bring you remarkable results.
Whether you're looking to reduce fine lines and wrinkles, achieve a firmer and smoother appearance, or take your skin to new heights by lifting, toning, and sculpting, these two devices work synergistically to deliver exactly what you need.
Mojia Boost .3 is your go-to for minimising the signs of aging. With its advanced technology, it delivers just the right microamps, at a perfect frequency that resonates with skin cells, to maximises ATP, collagen, and elastin production. Boost .3 is your skin care specialist as it targets and diminishes fine lines and wrinkles, leaving behind a rejuvenated and youthful complexion.
Feel the boost of confidence as you witness your skin transform into a more radiant and refreshed version of itself.
Mojia Pro Lift takes your skincare routine to the next level. Designed to lift, tone, and sculpt, this device helps you achieve a contoured and defined look.
Pro Lift's innovative features work in harmony with your skin, stimulating the muscles and enhancing their natural firmness.
Prepare to be amazed as you witness your facial contours becoming more defined and your complexion appearing more sculpted.
Together, Boost .3 and Pro Lift form a powerful team that addresses multiple concerns and caters to your unique skincare needs. They are the ultimate solution for those seeking a youthful and radiant appearance. Experience the transformative power of microcurrent technology.
ATP, COLLAGEN and ELASTIN
FIRMS
FILE LINES and WRINKLES
PLUMPS
REJUVENATE
LIFT
SCULPT
TONE
PRODUCT ABSORPTION
GLOWING SKIN
The Ultimate Microcurrent Bundle

Boost .3 for Skin
Pro LiFT for Muscles
The combination of the PRO Lift for muscles and the BOOST .3 for skin, forms an unbeatable microcurrent treatment. Providing various frequencies, this powerful duo elevates your treatment by effectively addressing various depths and concerns. 
Ready to feel amazing? Unlock the power of anti-aging with the PRO LiFT and BOOST .3 microcurrent combo. These two treatments  work together to create a long-lasting, and effective anti-aging regimen. Here's a look at what you can expect from this powerful combination:
With immediate and cumulative benefits, the PRO LiFT offers remarkable results, while the BOOST .3 ensures ongoing effects that span across time for complete skin rejuvenation.
Benefits of PRO LiFT and BOOST .3 microcurrent.
√ Lift, sculpt, tone, and firm skin for a more youthful appearance
√ Visibly reduce wrinkles and fine lines
√ Rejuvenate skin and restore its natural glow
√ Increase ATP, collagen and elastin
√ Smooth out uneven skin texture and tone
No microcurrent procedure is considered complete without an excellent conductive gel. In this package, you will receive two Beautiva Conductive Antioxidant Enzyme Gels! Immerse yourself in the luxuriousness of this super rich gel that is specifically created for anti aging and skin rejuvenation microcurrent treatments. The impressive formulation proudly presents a generous amount of superoxide dismutase – a powerful antioxidant enzyme celebrated for its ability to protect the skin from harmful free radicals. Additionally, this gel is enriched with silk fibroin to elevate your skin's smoothness and flexibility to unprecedented levels!
Details
The Bundle Contains :
1 x Mojia Boost .3 Microcurrent device
USB charging cord
User Manual
Pouch
Mojia PRO LiFT
1 x Mojia PRO LiFT Microcurrent device
USB charging cord
User Manual
Pouch
 Beautiva Conductive Antioxidant Enzyme Gel
2 x Beautiva Conductive Antioxidant Enzyme Gel
Mojia® BOOST .3 is Certified for Conformity by CE and RoHS bodies for its high quality manufacturing and testing compliance. CE conformity is the European equivalent to FDA cleared.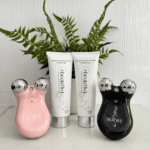 BOOST .3 and PRO LiFT Bundle
Your review
* Review is required
Email
* Email is required
Add photos or video to your review